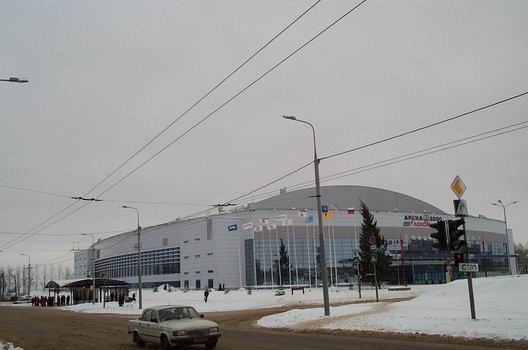 We wanted to go skating and went of to the ice stadium in the city and was expected something else than this. We saw a brand new stadium only 3 years old built by a Finnish enterprise. It was like seeing a UFO. I have never in my life seen an ice stadium this size. The remarkable is that it is situated far from the city in a very soviet area with a lot of soviet apartment buildings. We asked ourselves why they used money for such an unnecessary thing, when for example the public transportation system is totally wrecked down. Unfortunately it was closed for public that day, so...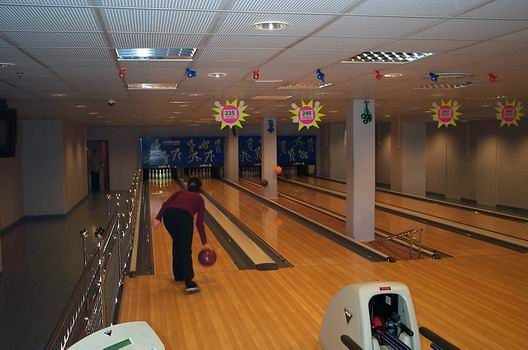 ...we went bowling instead in the stadiums bowling center. That was very fun. I played 5 rounds against Marina and won them all - I was good or lucky:-)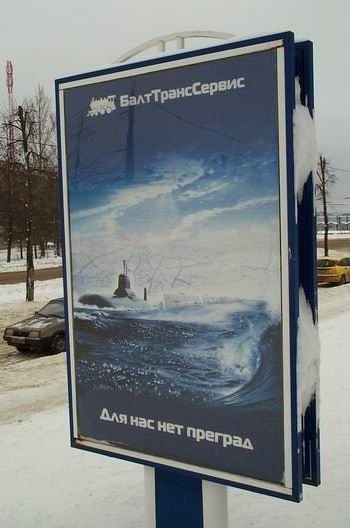 We have heard a lot about Russian submarines, but not that they recently have been pulling shipping containers for BaltTransServis. In my opinion that is much more useful than what they are usual doing. The text on the poster means: "We have no barriers".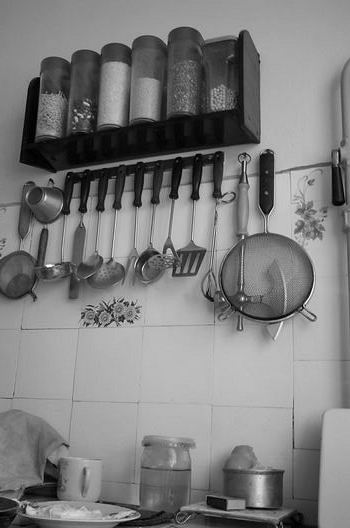 I kind of fell in love with Anna and Yakov's kitchen especially their tools - but that I can explain; I almost don't have any at home in Aalborg:-( I am wondering if that thing to the right is a weapon or a tool for cunning meat?!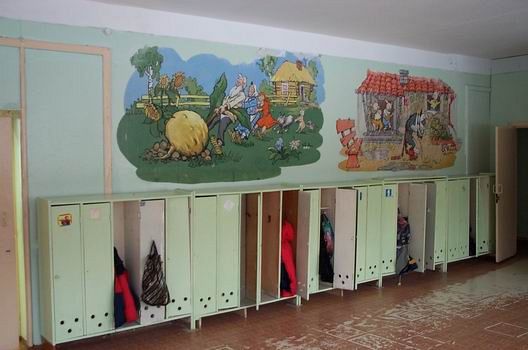 We took a walk around in Marina's old neighborhood and found her old primary school. Notice the small lockers for clothes and the two wall paintings with Russian stories for children - nice aren't they?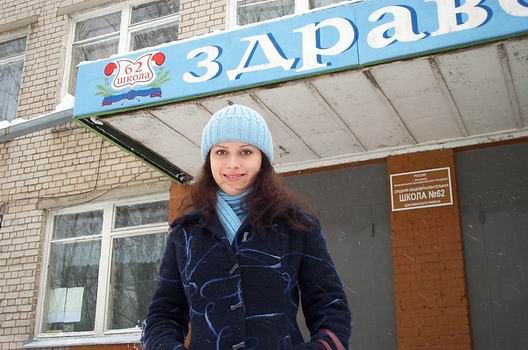 It was the first time for over ten years that Marina visited her old school: "School no. 62". Here she is standing in front of the main entrance. While we were at the school, many of the children had physical education - skiing!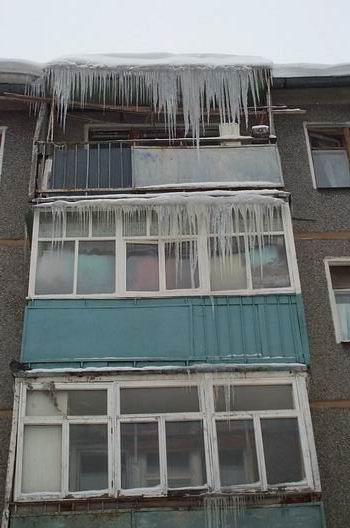 It can easily be seen that is has been cold for a looong time. Here the longest ice taps can be seen. I don't want to get such a thing in my head! The facade is typical for Russian apartment buildings.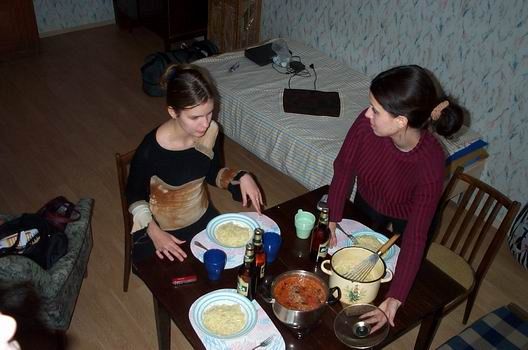 Back from Yaroslavl. It is the day before I leave for this time - unfortunately. I have invited both Katya and Marina for supper consisting of my home cooking. It was a memorial evening before leaving Russia.
Yes, and then you reached the end - but remember that an end is also a beginning of something new. I hope you enjoyed my trip as I did. For sure Russia is not only in my memory but in my heart and that is the same to many other people - by coincidence I met more of the foreign people I knew from the summer of 2003 I spent in Moscow. They too came back and will continue to come back... with these words I hope for ever increasing ties between not only Russia and the outside, but for the rest of the world.
24th January 2004