28 February 2007 @ Moscow, Russia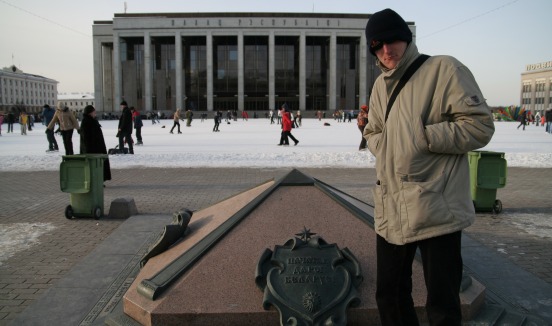 It is very difficult to see, but the person with the black hat on the picture is actually me as an secret under-cover agent working for the Danish Intelligence Agency. My cover is due to the fact that the above picture is taken at the very center of Belarus - at least that was what was written on the stone.
My girlfriend and I went to Belarus this weekend in order to enjoy Minsk?! Here a question-mark quickly appears, because can one enjoy Minsk - is Minsk worth visiting? The answer is two-sided; if you want to look at beautiful architecture, then there is absolutely nothing to see. If you want to see the last reminder of the Soviet Union controlled by a powerful president or as many state dictator, then Belarus is indeed your next holiday endeavor.
In the coming future I will write a more comprehensive report about our trip, but I will already come with a small comment as to many foreigners attitude towards Belarus. A question: As a tourist I will likely be stopped by police for a "random" document check - which country do I have in mind?
Moscow, Russia!
As a tourist I did retain myself from criticizing the president, but nevertheless I was not stopped by police - not even for a "random" document check. Which country and city do I have in mind this time?
Minsk, Belarus.
I am confused, how about you?
17 February 2007 @ Moscow, Russia
Today I discovered the website and blog of Dr. Charles Simonyi, who is going to be the next space tourist. Simonyi will be launched into space with a Soyuz spacecraft on the TMA-10 mission together with two Russian cosmonauts in April 2007 if everything goes according to plan. Simonyi has been working at Microsoft as chief architect for Microsoft Word and Excel and is now CEO of his own company: Intentional Software.
His website is very fascinating reading about his training and space launch preparation at the Gagarin Cosmonauts Training Centre outside Moscow.
12 February 2007 @ Moscow, Russia


3... 2... 1... GO! Saturday the 10th February I participated in the "downside up" Russian Challenge Ski Race at Bitsa Recreation Zone just outside Moscow to the south. I was part of Danfoss' corporate team with number 7-1 (see the picture) in the 4 times 500 m free-style relay race. It was the first time I had skies on for 3 - 4 years, so I was quickly outrun by my fellow skiers. But thanks to my three other colleagues we won the company relay race and took with us home a nice trophy.
After the relay race I attended the 10 km free-style competition or rather for me it ended up in being classic Nordic skiing most of the way. It was liberating, fun, but also exhausting. After approximately 6 - 7 km almost all my energy had vanished into thin air, but I "climbed" the mountain and crossed the finishing line - and not as the last one... at least that was what I was told:-)
It was a great and nonetheless a strange feeling to be cross-country skiing not more than 200 m from a 10-lane highway and with 17-story buildings in the topping the horizon. However the area is nicely shielded from the traffic noise and ski tracks nicely prepared, so it was definitely not the last time I visited Bitsa - a small part of Norway of the footsteps of Moscow.
The annual race is organized by the charity organization "downside up" in order to rise funds for helping children with Downs syndrome in Russia.
4 February 2007 @ Moscow, Russia
One of my friends sent me this really nice link (click here) to a video of somebody who has problems with driving. To be honest it is one of the better ones... enjoy the ride:-)
8 December 2006 @ Moscow, Russia
Yesterday, today and tomorrow I will hate spam, but sometimes I just get spam emails which are too stupid! Here below I will spam my own website with one email I just received today. Before you read on (which I will actually not recommend), I can add that the Russian city Kaluga is something like 2-300 kilometers from Moscow to the Southwest. We are currently experiencing the hottest December (until now) so it is very unlikely that our dear sender will die soon due to cold weather. The temperature in Moscow is by the way 5 degrees on the Celsius scale:-) Here you go:
»Dear Friends,

Please excuse me for this letter.

My name is Valentin. I'm student and I live with my mother in a small town Kaluga, Russia. My mother cannot see and she receive pension very rare which is not enought even for medications.

I work very hard every day to be able to buy necessities for my mother, but my salary is very small, because my studies still not finished.

Due to deep crisis authorities stoped gas in our district and now we cannot heat our home. I don't know what to do, because the winter is coming and the weather will be very cold. I am very afraid that the temperature inside our home can become very cold and we will not be able to survive.

Therefore I finded several e-mail addresses and thank to the free internet access in our local library I decided to appeal to you with prayer in my heart for small help.

If you have any old sleping bag, warm blanket, electric heater, warm clothes and shoes, electric water-boiler, canned and dried food, vitamins, medicines from cold, any hygiene-products, I will be very grateful to you if you could send it to our postal address which is:

Valentin Michailin,
Rileeva Str, 6-45.
Kaluga. 248030,
Russia.

If you think that it would be better or easier for you to help with some money, please write me back to my e-mail vmikal@nextmail.ru and I will write you how to send it safely, if you agree. In this case I will be able to buy a portable stove and heat our home during the winter.

I hope to hear from you very soon and I pray that you can help us. I also hope very much that this hard situation will become better in our region very soon.

From all my heart, I wish you a Merry Christmas and a Happy New Year 2007. I wish that the New Year will bring you hapiness and all your dreams come true.

God Bless You,

Valentin.
Kaluga. Russia.«
9 November 2006 @ Moscow, Russia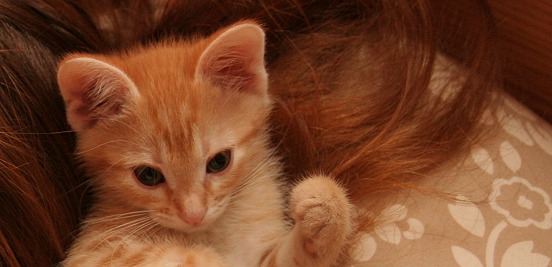 I have got several requests for more pictures of our hostage taker - so here you have it. Notice the firm paw on the right side. Earlier we stated that he was 2 months old, but that is in fact not true since we now got his birthday confirmed as being on September 13th, 2006. Accuracy is not a key Russian trademark:-)
7 November 2006 @ Moscow, Russia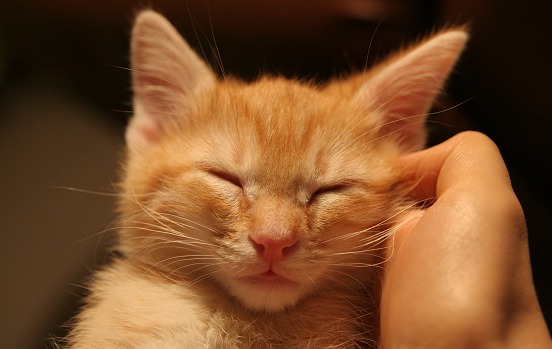 A small terrorist has taken us hostage since last week. He is 2 months old and already knows how to spread international terror with its claws.
26 April 2006 @ Moscow, Russia
Chernobyl... nothing more should be said. Now it is precisely 20 years ago the nuclear power plant went out off control creating one of the biggest catastrophes in human history. Still the planet is again on the nuclear track after a period of reluctance towards developing new nuclear facilities. We seem to forget that we are human, thus we make mistakes and we will do them again, even if we try our best to avoid them. Let us face it; we can not make a 100 % safe nuclear power plant and the consequences of worst case scenario is so devastating and destructive, that it is not even worth taking even the tiniest risk. And even if we really could make a 100 % safe nuclear power plant there are still other issues remaining - that of the highly radioactive waste and the radioactive parts of the power plant itself. These things has to be dealt with - an issue we still need to find a durable solution for.
I am not against harnessing nuclear power. I am against nuclear fission, which is a technology of the past. Nuclear fusion is the future. Yet, the problem is that financing the development of the technology from its infancy and into operational power plants are still being done in small steps. Mankind should speed up this development and be totally devoted towards fusion, which at least in theory is much safer and creates radioactive waste at a far smaller scale. Until we can utilize this technology we should direct our attention towards alternative energy such as wind turbines, wave-energy, bio-energy, solar energy and very efficient and clean coal and gas power plants.
Please give the victims of the Chernobyl disaster a thought - are we ready to face the consequences of nuclear power? Read Olexiy Breus and others victim's stories - go to BBC's website.
12 December 2005 @ Moscow, Russia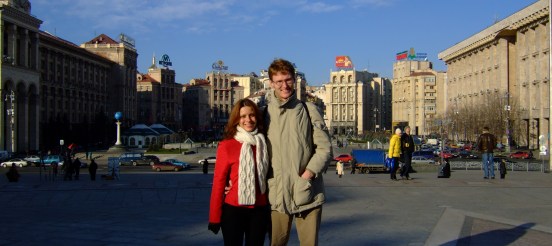 The first weekend of December I went to Kiev together with Marina and I had to admit that the trip proved to be a very nice one! You could really feel the "Orange revolution" on yourself - at least I could feel it at the Ukrainian border. How? It comes down to the fact that Yushenko abandoned the need for getting a Ukrainian for Danes and many other nationalities. That move was the reason for us going to the Ukraine and not Belarus.
I know that I'm somehow off topic, but I have to give some acknowledgement to the Russian border guard, because even though he awaked us at around two o'clock in the night he still managed to be very nice! He wished me a very good journey while giving my passport back. For those who doesn't know Russia and Russian border guards very well; his action is somehow comparable to a Danish border guards kissing foreigners on the mouth:-)
Or .... maybe he was under heavy influence from Kiev citizens?! We spent 2,5 days in Kiev and didn't encounter any annoyed people, who you quite often meet in Moscow. No, the citizens seemed much more open towards everybody. Another worth-to-mention thing was that in Moscow you normally see a small army of policemen on the street, at metro stations, railways stations etc. However in Kiev they seemed to have gone on vacation, at least they were almost nowhere to see. Again I want to further mention, that you don't feel much safer in Moscow, because the police is somewhat not very thrust worthy. Please leave a message if I'm making prejudgments.
The 2nd day we were there it began snowing - making the city mysterious and even more interesting. It really came to life... as a huge billboard (see below) was proclaiming outside the windows of our hotel; "Life is getting more interesting".

6 November 2005 @ Moscow, Russia
As mentioned yesterday I anticipated that our (me and my girlfriend) bus trip would be pretty awful. But to be honest the only good thing I can say about it, is that it was 2,5 hours shorter than my journey to Volgograd. So my legs only had to survive 14 hours this time.
I have to add, that we took another bus company this time, because it had a late departure at 22.00 in the evening. One can wonder how the company's name can be "Nice Traveling" (Нейс-тревелинг) when their bus was a middle-aged Daewoo bus! If one think that there's no space in a German Setra bus, one should definitely try Daewoo.
A bit more information about this South-Korean made bus; it is made for smaller than European people, so my 197 cm got sincere problems when the man sitting in front of me turned his seat back. Then 197 cm becomes very delighted to understand that the passage in between the rows can be used for long-leg storage:-)
I have to say that the bus driver was very nice, at least when he didn't play Armenian music in Russian over the internal loudspeaker system. No, I don't have anything in particular against Armenian music, thus I also used my ear-plug's when he played mid 90' English easy-listening girl power pop/dance.
After 4,5 hours of bumping on crap and here I really have to stress "CRAP" Russian roads, we became a rescue vehicle for a stranded bus from another company, which also was heading towards Moscow. To my great surprise the bus was the good Setra I gave so many nice thoughts.
So, why did I have to write the above? To be honest, it was because I really whished Russian far far away, but then again... what do one remember the most? Bumpy roads or nice plain state-of-the-west roads?
5 November 2005 @ Volgograd, Russia
Every vacation comes to an end unfortunately and this applies also to my week in Volgograd. Here I visited my girlfriend's parents.

In a few hours I will leave by bus from the main railway station in Volgograd - the one you can see here to your right. I will have plenty of time to think about how nice the week was, because the bus will be 15 hours or more on the road to Moscow.

How I survive being cramped together in such a small space for such a long time I don't really know. I always swear to myself that I will never do it again - but it is a cheap way of traveling (20 € one way - 1000 km).

The weather and company was however nice and warm!
13 September 2005 @ Moscow, Russia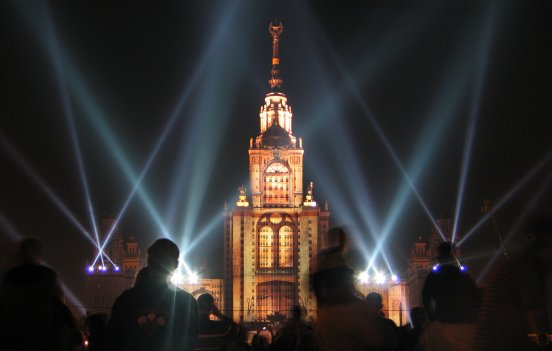 I know that the above picture is huge, but how can you downscale a 240 m building onto an inch size picture? To those who don't recognize the magnificent building - it is of course my beloved Moscow State University's main building. I was so lucky to witness Moscow's 858th birthday in a very spectacular way. 8 years ago Jean Michel Jarre made a huge light and laser show in order to celebrate the city's 850th anniversary on this exact spot using the building as a huge screen. It was such a huge success, that Moscow couldn't live another 10 years without such an event. This time it wasn't Jean Michel Jarre, but the Bolshoi Theatre and some other Russian artists, who made this fantastic show!
That was somewhat the beginning to my 'second term' in Russia. I have been here a bit more than 3 weeks and haven't really been making any statements, yes, someone could accuse me of getting a Soviet attitude to things:-) To be honest, I think it is more due to the fact, that I'm working hard at The Royal Danish Embassy in Moscow as a research assistant in the commercial department, and as of that time is getting limited. If I should make some notes about my job until now, I would say that it is very different from what I have been doing before. Now my calculator has been replaced with fax machines and telephones, and the Danish weekly Ingeniøren with Financial Times.
In order to make a happy ending, I sincerely want to thank Danish State Railways, because they offered a superb service to my girlfriend and me. The 19th September we took the earliest train from Esbjerg to Copenhagen with a further connection to Copenhagen Airport. We almost had one hour of slack between our arrival and the closure of check-in. Unfortunately our IC3-train constantly triggered it's emergency breaking system some 250 km from Copenhagen. After we had been sitting there for 45 minutes all passengers were transferred to another train heading in the same direction. But because the train wasn't express, why had no way of reaching Copenhagen in time for the check-in procedure, so we explained the situation to the conductor, and ended up in a taxi from Kolding to Copenhagen Airport. After 240 km's in a taxi we reached Copenhagen Airport just 3 minutes before closure of checking-in. The Danish State Railways paid around 520 € for our taxi ride. The two one-way tickets from Copenhagen to Tallinn cost around 60 €:-)
6 August 2005 @ Esbjerg, Denmark

For more than a week ago I finished my service at DEMA in Næstved and now I'm enjoying my summer vacation. In fact since last Sunday and until yesterday I have been in Ho - a small town on the west coast some 30 km from Esbjerg. Here I visited my grandmother who lives in her holiday cottage during the summer. Unfortunately we were witnesses to ongoing rain, but we managed to enjoy around two hours of good weather at the Skallingen beach, as you can see on the above image.
A part of the Skallingen beach and surrounding sand dunes are closed due to the presence of landmines from the Second World War. It is believed that around 10.000 mines still are remaining in the area. Most of the mines are anti-personal mines and therefore potentially dangerous to people. It is believed that around 5 % of the mines can be harmful even today.
The above information is roughly what you can find on the website of The Danish Coastal Authority. But there is more to it than that. I have mentioned it here, because until recently (this year) one could walk freely in the area. I have done that a couple of times and never even seen trace of any mines. Before it was only restricted to walk in the sand dunes, but not on the beach.
According to the Ottawa Convention from 1997 among many things all signing states should clear all areas with landmines. Denmark has signed that convention and thereby committed to clear the Skallingen landmines by March 1st 2009. The Danish state will most likely not be able to do that, because the sand dunes move every year and nobody knows where the mines are situated today. Some mines can be many meters below the surface and yet again some can be far away from the shoreline below water. Anyway if it proves to be possible to clear all the remaining landmines it will be extremely expensive.
So Denmark will be in a dilemma. Should Denmark clear the area at whatever cost it may bring or should we ignore the Ottawa Convention? Here I have to note two things. First; nobody have ever been killed or mutilated in the area. Second; the area can't be used for any commercial development and nobody lives there due to the status as a conservation area.
Instead of clearing the area Denmark should direct the money to clearance of landmines in third world countries, where landmines are mutilating and killing people every day. That makes better sense because there you will actually save life. In Denmark you will only save the country's reputation - which is better?
19 June 2005 @ Esbjerg, Denmark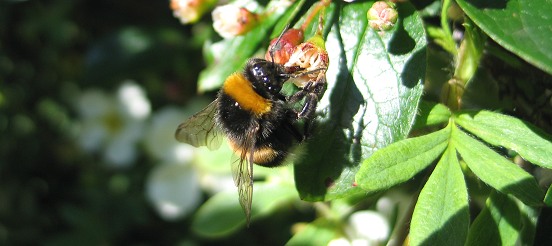 I haven't really published anything new on this site for a month or so - sorry for not doing that! But, I have been busy... and now I'm as free as the above bumblebee. I was very lucky, I was out shooting pictures for Emporis.com and heard the pleasant sound of bees, so I turned my camera down to the flowers instead of the nearby buildings. I think I managed to catch the above picture after taking around 50 or 80 pictures:-)
While Speaking about Emporis.com - I got an upgrade from photographer to editor on the site as of 3rd June, so now I'm even more eager to shoot more high- and lowraise buildings, churches and water towers etc. Especially water towers have arised my interst. Recently I have been amazed about the many beautiful water towers there are hidden away in many Danish cities. They really have to be careful not to get their picture taken.
Okay, let's go back to why I have been so busy lately. This week I have attended two examinations, one in German and one in Russian. It meant I had to read a minimum of around 130 pages of German and 80 pages of Russian to prepare for these examinations. The Russian examination was even split into an oral one and a written one. I finished the written examination some time ago on May 20th.
So how did it go?
I'm very satisfied. I got 10 at my German examination in Thisted this monday and for those who are interested it was Danish C-level. With Russian I was very happy too, because I had no idea how much was required for the examination, because I never attended one single class of Russian within the borders of Denmark. All my classes have been in Moscow and that dates at least back to last summer! I received 8 for the written part and 9 for the oral part of the examination. The exam was a B-level, which equals a higher secondary level here in Denmark when we are speaking about Russian;-) A-levels exists, but not really for Russian strangely enough. The B-level is also enough to enter the Russian studies at university at the universities in Aarhus, Odense and Copenhagen.
Above all this I have been doing a lot of work at the Danish Emergency Managenemt Agency... sorry, but the most of you would never understand what the abbreviation "DEMA" means:-) I have been helping the editor of the magazine Sprøjten to finalize the next issue and so it happened. This friday it went to the printing works and now we are waiting in excitement until it's printed!
Hope the summer will be good and warm!
14 Maj 2005 @ Esbjerg, Denmark
Some of my pictures of the Moscow Monorail have been published on the Norwegian website bytrafikk.no which is a website for public transportation in urban areas in Norway. The article is written in Norwegian.
24 April 2005 @ Esbjerg, Denmark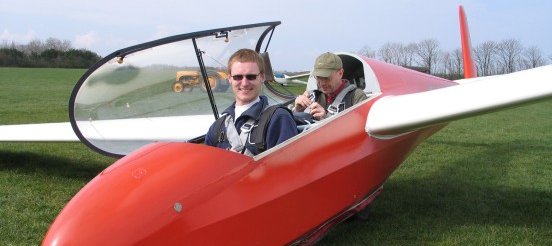 Yesterday I went with my friend Kenneth to get some high altitude action by gliding on the skies. After a half an hour journey from Esbjerg we found the spot Bolhede where a small airfield belonging to a glider club were situated. The weather was a bit cold but nice anyway with the sun peaking through the clouds now and then. On the picture you can see me and Gunner who was the pilot for the time being. I was lucky to get the front seat or as they would call it on Eurosport; "The best seat in the house". After jumping in the parachute and getting some small info on how the instrumentation worked - we were ready.
3-2-1... ignition.., yes if it would have been a rocket then it would have sounded like that. Here they just hocked a very long cable to the glider and ignited more than 300 horses at the end of the cable with the result of the plane being almost catapulted 350 meters into the sky. Very cool, but somehow also a bit scary to look directly up into pure infinity and down onto solid death. But Gunner quickly straightened the glider and began searching after some up drifting air.
I was lucky and after 5 minutes we were doing circles in an air bubble with hot upward flowing air. After in my opinion sickening many circles Gunner put on straight forward going course after reaching 750 meters, which was the maximum altitude we were allowed to reach this day. Wow the view from up there was magnificent!
After one hour as a bird we made a rather rough landing - after I asked about the necessary landing strip required to land. Gunner then demonstrated that the space needed for landing was very small indeed. Even though I couldn't have been in the safest hands (Gunner had over 30 years of experience!) I was happy to be on firm ground again.
22 April 2005 @ Ho, Denmark
Denmark is a nice place to be when the weather is nice. So it was on this sunny friday where I joined with my parents, who were giving my grandmother and her many thousend things a lift to her summer house i Ho.

In one of the winter storms a tree had fallen to it's side and was just screaming after a chainsaw!

As you can see on the pictures the tree really got what it deserved and I some fun. It can also be seen that I really wasn't prepared for doing some work which is the reason for my highly un-appropriate clothing. But won't you do everything for you grandma;-)
7 April 2005 @ IC3-train to Esbjerg
Last weekend I went on to my parents summer house for a day or so. It was nice to be there again - to be honest I can't remember when I have been there the last time. As you can see on the picture the weather was just wonderful. The day after I went to Blockbuster to rent a movie with my friend Kenneth. I just want to tell you the story, because I really think that Blockbuster have some stupid rules.

I gave them my membership card, but the woman working there said that it was more than 1 year ago I rented a movie the last time so I needed to make a new registration. To do that I needed my yellow social insurance card and a some identification with a picture. No problem, but I had forgotten that my visa card doesn't have any picture any more, and my drivers license was a temporary one without a picture. But I had a student card with a picture and around 10 other cards with my name on it, but no she refused to let me rent the movie. In short; Blockbuster in Esbjerg stinks.
19 March 2005 @ IC3-train to Aarhus
I'm back again, after not having written anything on my website for ages. I'm sorry for that!

A lot has changed in my life the last two - three months. The 24th December my friend Marina came to Denmark just in time for Christmas and stayed here until the beginning of February 2005.

While Marina was here I graduated as an engineer with a speciality in production management. The last 1,5 month I have been serving in Thisted with DEMA (Danish Emergency Management Agency).

I Thisted I have been doing many interesting things such as learning to rescue people, fire fighting, first aid and yesterday I got my truck license (EU categori C).

The picture here to the right is me with full breathing equipment on ready to enter a burning house - which by the way is as fun as it is serious.

Last monday things again changed because I got the position as the Denmark-wide spokesman of the conscripts serving in the Danish Emergency Agency. From now on I will take office in Næstved.



21 December 2004 @ Aalborg, Denmark
My and my girlfriend are very happy today. A bright light somehow went on at The Danish Immigration Service and they approved my girlfriends visa to Denmark - after 9 weeks! Normal processing time is 4 - 6 weeks by their own standards. I want to thank the Danish people for approving such horrifying immigration laws.

Merry Christmas!
7 December 2004 @ Aalborg, Denmark
Today the date of my graduation examination went public. Hopefully I can call me an engineer on the 26th January next year if everything goes well. I can see that it is going to be a hard time that is coming.
4 December 2004 @ Aalborg, Denmark
Today I have been playing with some RSS feeds. As a result of that I have taken an action to introduce a RSS news feed on my website. You can incorporate or use my news feed with this link. It features the updates that comes on this page so you are always update easy and instantly. If you are not familiar with RSS, you can find more information on Wikipedia. Enjoy!
28 November 2004 @ Aalborg, Denmark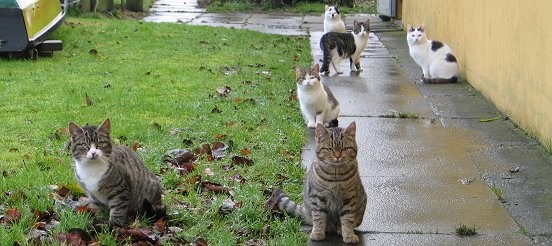 It is true. Denmark is invaded by foreigners. I catched six of these with my camera today. I think these creatures don't really bother about what is going on in the Ukraine. They would neither support Yushchenko nor Yanukovych, but would support freedom and prosperity. They do that because they lack the hatred which comes with age and instead they have an open mind. Open to new ideas, new countries, new people and new friends.
Whatever we are witnessing in the Ukraine is has probably only just started. We don't know where it will lead, but maybe to the election of Yushchenko or Yanukovych? To both? To a third man? Or to a the disintegration of the Ukraine as we know it today? However it comes out, let's cross our fingers for one thing - that it will happen without it coming to any bloodshed!
With the picture above my thoughts are going to my friends in the Ukraine;-)
26 November 2004 @ Aalborg, Denmark
| | |
| --- | --- |
| Today I was lucky to meet a Russian and some Polish guys who were doing a petition for a fair election in the Ukraine and in favour for Yushchenko at Aalborg University. It made me happy and the initiative was great - so of course I signed it. Further information about supporting the opposition can be found at PORA. | |
19 November 2004 @ Aalborg, Denmark
What a day. A guy called and offered me a bicycle - an offer I couldn't reject. So I travelled 60 km by train to the north to Hjørring, bought the bike. An then with ice hanging down from my beard I drove the 60 km back to Aalborg in total darkness and cold:-)

But it was worth it - I got a really good used bike.
18 November 2004 @ Aalborg, Denmark
| | |
| --- | --- |
| A good example of what a day can bring without you know of it was yesterday. It was not more than 6 hours before this picture was taken that my friend Kenneth called and said that he was on the road from Tønder to Aalborg - around 290 km. It ended out in being a pleasent evening eating pancakes in the the company of my neighbour Ulrik;-) | |
31 October 2004 @ Aalborg, Denmark

On this the last day of October the weather has been just fantastic, which this magnificent picture above tells. It's taken from the hill of Sohngårdsholm in the south east corner of Aalborg and the view is towards the center for the city. I just had to take a ride on my bike in this weather. Best luck with next month and let's hope it will start happy - like with an election of Kerry instead of Bush. Kerry will not be a perfect president, but hopefully he will show a better understanding of the world we all are living on, than George W. Bush who didn't even have a passport before being elected as a president.
Why can I take upon me such an opinion? I can do that because the election of the American president has enormous influence on the rest of the Earth because the USA thinks of itself as the leader and policeman of the world. If the US thinks like that we have to care and draw up our opinions. If you want proof of this just ask yourself when was the last time the Danish prime minister was in the news for policing around the world.
23 October 2004 @ Aalborg, Denmark
After 13 rides and 520 km to Støvring and back again it finally happened - an accident:-( On my last km to home I managed to kick a plastic shopping bag into my bicycle resulting in my bicycle pump falling down on the road... milliseconds later I smashed it with my back wheel.

Oh, I forgot. I have to go to Støvring because the company (Hydrema) in which I'm writing my graduation project is situated there.
26 August 2004 @ Volgograd, Russia
I wish to make my condolences for the 89 victims and the families of the victims of the air disaester in Russia on the 24th August, where a Tupolev-134 and a Tupolev-154 airplane crashed heading to Volgograd and Sochi from Moscow. Especially because I myself will travel with Aeroflot on the 3rd September from Volgograd to Moscow by a Tupolev-134 airplane.
22 August 2004 @ Volgograd, Russia
| | |
| --- | --- |
| Now I have been in Russia for over two months time, and a lot have happened. I have travelled twice to the Baltic States to get new visas - first in Tallin and then in Riga. Now I am currently living with my girlfriend's family in Volgograd preparing for and Russian language exam at a intermediate level. On the 11th August luck struck when I catched some lightning with my camera near where we are living. | |
10 June 2004 @ Aalborg University, Denmark
| | |
| --- | --- |
| After many touch days the system VS6 came to a halt. The VS6 group consisted of five people studying industrial management and reached point of no return on the 72nd day of service running the operating system "writing report ". Now VS6 will reboot into safe-mode. Device Anders will execute program Aeroflot and while; date > 7 July, the command line "Russian vacation" will be run. Else the command line "study Russian" will be run until buffer overrun is reached. | |
27 May 2004 @ Aalborg, Denmark
Today I went for a 105 km bicycle ride to the beach Slettestrand at the North Sea. As you can see on the pictures the weather was marvelous and just couldn't be better at all. On the top picture I'm having a rest in the small, but beautiful town Gjøl. The bottom pictures was taken just after leaving Gjøl and is is a field of rape - I think. I have to admit that plants and crops aren't my best field.

Under all circumstances the view is and especially was very impressive. It was my first bicycle ride here in the North of Jutland - and the nature in this area is incredible. I just can't believe it;-)



14 May 2004 @ Aalborg, Denmark
I would like to congratulate the crown prince Frederik and crown princess Mary of Denmark with their wedding today. I would like to wish them luck with their future, may it be long and great.
9 May 2004 @ Aalborg, Denmark
I have begun reading the Bible this week, so I have also begun writing an article about the Bible with my personal view on it. The article will never be finished. The idea is that it will grow while it get further down the lines of the Bible. My grand goal is to get more knowledge when it comes down to religion. Many discussions somehow rely on knowledge about the Bible. You can find my article under the "Articles" section of my website.
7 May 2004 @ Aalborg, Denmark
Now I have taken the final step in the IP-telephony world. I've joined the fast expanding group of people who have a normal domestic telephone number via VoIP. You can reach my by the dialing +(45) 36 94 87 15 from any telephone in the world! The service I'm using is run by www.musimi.dk which currently is one-man nerd company. But with my feeble knowledge I think he is sitting on a chest of gold, and his company will probably grow like www.jubii.dk (the very successful Danish search engine) to a blockbuster company in no time. Anyway I can have my hopes.
4 May 2004 @ Herning, Denmark
| | |
| --- | --- |
| This weekend I went together with 10 other students from Esbjerg to the prestigious IDA-cup 2004 in Herning. The IDA-cup is a game for students of engineering. Our good team "Fæ"nomenerne won the championship in "unserious" soccer, which also is the reason why I have a medal on:-) Who could anyway think I would win a normal soccer competition. One of the rules were; you make a goal, and you are out until you have finished a can of beer! | |
11 April 2004 @ Ho, Denmark
I was home for Easter, and went to my grandmothers summer house in nearby Ho, and what can be more relaxing than chopping firewood? Unfortunately almost all of it were already chopped! Apparently my grandmother is still doing some wood chopping, even now she's 82! As usually I managed to brake the handle of the axe, it's good I wasn't employed as a Viking some 1000 years ago.

Have a nice Easter.
29 March 2004 @ Aalborg, Denmark
| | |
| --- | --- |
| Thomas and me enjoying some rice porridge after a long and touch weekend - I think especially for Thomas:-) What you can't see, is that I should have had a visitor from Russia, but that was unfortunately stopped by the Danish Immigration Service. A decision of which I don't understand, but clearly a result of a very offensive Danish foreign policy. | |
4 March 2004 @ Aalborg, Denmark
My good American friend Jeremy living somewhere in Mexico City has been so kind and translated my pancake recipe from English into Spanish and English. Hope he will go to Japan soon, so I can get it in Japanese too:-)
17 February 2004 @ Esbjerg, Denmark
| | |
| --- | --- |
| I spent the weekend in my birth city at the Campus Party of University of Southern Denmark Esbjerg and Aalborg University Esbjerg - my old university. There I had a great evening with my friends and of course I couldn't attend the party in such a suit without dancing lancers - I have to admit that I could have been in better training, than I was in. I will leave that for next year. | |
12 February 2004 @ Aalborg, Denmark
| | |
| --- | --- |
| Today I went to the police auctions for buying a bicycle for my friends, when they are on a visit. I was lucky and got a really nice pink bicycle as you can see in the picture. The only thing which was wrong with it was that it lacked a nut on the front wheel, but that was only true for 15 minutes! Actually I bought two, but the other one was a wreck. Price for them both 50 Danish crowns plus 12,5 in tax... very cheap. | |
7 February 2004 @ Aalborg, Denmark
Updated the pancake page with a translation of the recipe into Italian. I have to thank Marina Kobzeva for the translation - I definitely don't know a single bit Italian.
24 January 2004 @ Aalborg, Denmark
Now it is a week ago I came home from Russia - I would be please to have been able to stay there longer. But on Monday I have my final project examination, and it is highly necessary that I attend that.

While I am preparing myself for my next adventure; a visit to the Baikonur Cosmodrome in Kazakhstan this summer, you can enjoy my pictures from my visit to Russia this winter. They can be found under pictures:-)
17 December 2003 @ Aalborg University, Denmark
We worked hard, and was up to 9.00 in the morning, just 3 hours before deadline. But we made it, we finished our project report. So, now I am heading for Moscow, I am taking the train to Frederikshavn this evening. But I am tired and need some sleep.

Marry Christmas and Happy New Year!!!
24 November 2003 @ Aalborg, Denmark
My thoughts and condolence goes to the victimes, relatives and families of the terrible hostel fire in Moscow belonging to the Russian Friendship of Peoples University. I was very shocked this morning when I heard that 36 students died, and more than 170 students were injured in the fire. The dormitory could just as well have been the dormitory where I lived in. I hope that the authorities will take the action needed to tighten fire inspections in respect for the killed students. Unfortunately that is most likely to be the reason to, why it went so terrible wrong.
Go to BBC news for more information.
9 November 2003 @ Aarhus, Denmark
| | |
| --- | --- |
| | This weekend I travelled to Aarhus to visit my friends, and visited among them people from RAF. Again I got the idea of making pancakes, this time in the small village named Beder, south of Aarhus. Again I forgot the recipe, and decided that that should never ever happen again. So now I have published the recipe on my website enjoy! |
31 October 2003 @ Aalborg, Denmark
Updated my CV section. I am on Skype now, so please fell free to call me - just search after my name. For the people who doesn't know what Skype is, I can tell that it as a killer application for telephony over the Internet. It is free and very easy to use, and you can download it here.
26 October 2003 @ Klegod, Denmark
| | |
| --- | --- |
| Last weekend I had a long awaited trip to my parents weekend cottage on the West Coast of Denmark. I was there with three of my good friends from RAF. That should be celebrated in a proper manner - by making a burning napalm at the beach! The good observer can see that there is written "RAF" with fire in the sand. Send me an email, if you want to know how to make napalm. | |
13 October 2003 @ Scoresbysundvej, Denmark
Yes, now I am installed on my new and final address - at least for at longer while. I don't have much more to say, because I am very tired and should go to bed. Pictures from the place will come later.
25 September 2003 @ Zakopane, Poland
| | |
| --- | --- |
| | I am sorry I haven't updated this page for a long ... long time. But as you probably know, I have been 4 months in Russia for studying - Russian. Now I am home, or rather in my new home in Aalborg in the north of Denmark. I have a very small room in a dormitory, and life is again back to the boring normalities. But now I can remember the coolest trip ever, look back on good experiences and fun. The picture on the right was taken in Zakopane in Poland on my way home. See you... |
25 April 2003 @ Esbjerg, Denmark
Leaving for Moscow....... see you. Updated the "About me" section.
17 April 2003 @ Ho, Denmark
Now I can enjoy the to be physically tired after a 60 km trip on my bicycle. The weather was so nice today that I just had to go to my grandmothers summerhouse in Ho (west of Esbjerg). Can you be more relaxed than going around the beautiful nature of the west part of Jutland on bike?

I hope everybody who can't go there, have an idea by looking at the picture. Even thought it is hard to explain with words and pictures!
13 April 2003 @ Copenhagen, Denmark
On friday I went to the Russian Embassy in Copenhagen to get my passport and visa. A good 16 hour trip, just to use one minut at the embassy! The reason is that they does not send passport by mail, very unfortunate for me:-( It took so long, because I got a lift on a truck from the carrier company Knud Skov Christensen, so I want to thank the driver Niller for the kindness of giving me a lift.

Today I have rearranged the front page, so this page only has the 3 newest pieces of news. The rest is to be found in on this page.
10 April 2003 @ Esbjerg, Denmark
This message is mainly for Danish people. There is an interesting discussion going on at www.dr.dk/talentkrigen , which I think you should look at. It is about the discussion about foreigners coming and going from Denmark. The discussion is based on a program on Danish television with the name "For klog til Danmark?" (To smart for Denmark?). In the documentary we see two danes. One which is member of Dansk Folkeparti (Danish Peoples Party) and born in Denmark, and one which is from Iran and working in Denmark as a doctor - but is thinking of going to the United States, because of the bad approach of Danes to foreigners.
25 March 2003 @ Beijing, China
As I promised so many people, I have now put a picture gallery of my trip to China on my website. I was fun to be there, fun to make and I hope you will have fun to read it. I have commented all the pictures seriously an the opposite:-)
24 March 2003 @ Copenhagen, Denmark
Yes - now I am home again. After waiting 13 hours in Beijing Capital Airport for SAS to fix our Airbus 340 airplane. A very boring airport by the way, so do not do that at home!

On Thursday I came to Copenhagen from Beijing, and on Friday I went back again to Copenhagen. I had to attend a generel meeting in DSF. Then I also got the chance to visit the embassy of the Russian Federation to apply for a visa. Hope I will get it:-)

By accident I saw the guard-shift at our queens castle and took a nice photo. Take care everyone...
13 March 2003 @ Chinese airspace, China
When you see this picture I will be on my way to China! I just had to tell you. A full week together with 50 other students from my university in Beijing. I am sure that will be so, soooo.. cool. Look forward to me getting home, then I will make a small page about my trip I think.

Undtil then; take care everybody.
28 February 2003 @ Esbjerg, Denmark
New English website launched, where you can read my CV under "About me" and find some new links in the section with the same name. Okay, not much new, but the layout is 5 years more new - and 200 years more modern:-) There will of course come more one this site later.... by the way, if you do not believe this layout is modern, then compare with the old layout - click on the Danish flag in the left corner. Enjoy...